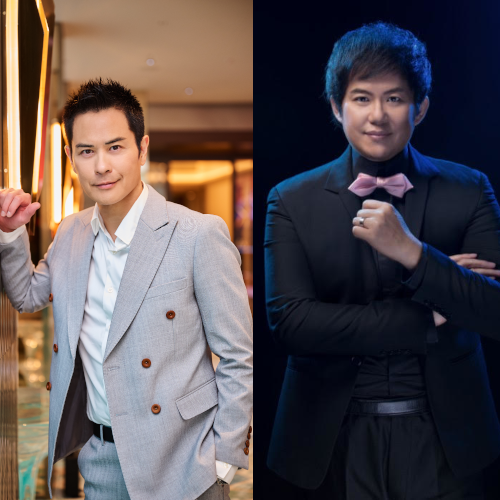 Kevin Cheng & Panda Hsiung
Kevin Cheng Ka Wing was born in San Francisco, California and grew up in Hong Kong. He was a contract artist under TVB, a television network in Hong Kong. Cheng debuted in the Hong Kong entertainment industry as a singer in 1993 and won the "Ultimate Song Chart Awards - Male Newcomer" by Commercial Radio Hong Kong. In 2006, his popularity soared after starring in the television drama "Lovers under the Canopy", which earned him the "TVB Anniversary Awards 2006 - Best Actor". In 2011, he won the same award for his role in "Ghetto Justice". In the same year, he also became popular in mainland China for his role in the Chinese television drama "Scarlet Heart".

Penda Tianping Hsiung, real name Hsiung Wei, is a Taiwanese male singer. In 1997, he debuted with his first solo album "Love Troublesome River" and was selected as one of the "New Artists of the Year" by Universal Music alongside "Power Station". He won the Best Lyricist award in the Pop Music category at the 8th Golden Melody Awards for his work on the song "Matchstick Paradise" by Qi Qin. He has since released over ten albums and written songs for many other singers. He married singer Yang Yang from Beijing while working in mainland China, in 2005.


鄭嘉穎
鄭嘉穎,出生於美國加州三藩市,在香港成長,曾是無綫電視經理人合約藝員。1993年以歌手身份在香港娛樂圈出道,曾奪得商業電台「叱咤樂壇新力軍男歌手金獎」。2006年憑藉電視劇《天幕下的戀人》人氣急升,獲得《萬千星輝頒獎典禮2006》最佳男主角;2011年,憑《怒火街頭》再度獲得《萬千星輝頒獎典禮2011》最佳男主角,成為香港「雙料視帝」,同年亦憑有他主演的中國電視劇《步步驚心》於內地爆紅。


熊天平
熊天平本名熊威,台灣男歌手。1997年與動力火車共同被上華唱片列為1997年度新人而出道,出版第1張個人專輯《愛情多惱河》,並且憑著齊秦演唱的《火柴天堂》一曲獲得第8屆金曲獎流行音樂類最佳作詞人獎,至今已發行十多張音樂作品,並為許多歌手擔任詞曲創作。2005年與歌手楊洋(北京出身)結婚。
Start:

June 03, 2023 Time: 7:00 PM